Welcome!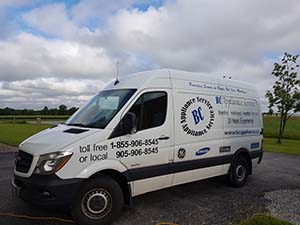 BC Appliance Service Technicians are factory and manufacturer trained by GE, Samsung, Blomberg, F&P and others. We have hands on training. We have Over 35 Years of experience repairing and servicing appliances.
We offer in home repairs to major home appliances and we will do my best to schedule your service call within 24 hours from the time you call or request online service.
We carry a variety of parts in my truck so that we can complete the repair on the first call. If we need to order, we will order the part(s) that day and return with the part(s) as soon as we receive it.
Self book your service online or call us during office hours Monday to Friday from 9:00am to 4:30pm.

For service, call 905-906-8545 or toll free 1-855-906-8545.
Our phones are answered between 9:00am and 4:30pm, Monday through Friday.
If you call outside of business hours, please leave a message!

For self booking service appointments, you must have all fields filled out, BC Appliance will notify you if there are any issues with booking.
Warranty!

BC Appliance Service is proud to be Your Appliance Repair Service.
Labour costs remain under warranty for 6 months. We use ORIGINAL parts to repair your appliance.
All parts are guaranteed for 1 year, except for electronics which are guaranteed for 60 days.
Information Needed When Scheduling a Service Appointment

Please have the following information available when scheduling a service appointment, having this information readily available will help me provide efficient service to you.
If you do not have model and or serial number we can still provide you with service to your appliance.
Make of appliance (eg. GE, Whirpool)
Model (combination of letters and numbers eg. RT179)
Serial Number (combination of letters and numbers usually two letters and six numbers eg. MA123456)
Error Code (display on screen eg. F1,F2)
Servicing the Hamilton, Haldimand, Brantford and Simcoe Area.